This is a continuation of the trip Redington, Vicki, and I took to Greece this last summer. This series starts
here
.
In our next section of the trip we travel through the mainland. We are heading toward Delphi the famous temple complex where the Oracle of Delphi resided.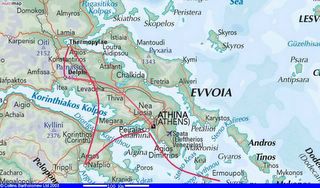 Travel on the mainland
Mt Paranassus
The valley below Delphi
When we got to Delphi The sun was setting and we found a hotel and a place to eat. We walked down the road and could look up the valley as the sun set.
A Shrine
These shrines were everywhere. This one had some Metaxa as an offering.
One of the preserved floors
At Delphi you could see some of the well preserved floors.
The Athenian Treasury
This is the Athenian Treasury which was dedicated after the victory over Xerxes. It was filled with treasure as offerings.
These carefully fitted stones are covered in Greek inscriptions
Here is the Greek writing that covers the stone wall
Vicki and I at the Temple of Apollo
This is a theatre in good condition.
This is a race track with seating. It was at the top of the temple complex.
At the race course Vicky and Redington
Vicki readies her camera at the temple of Athena
Temple of Athena
Gryphon at the Delphi museum
Model of Temple of Delphi, the large building inthe middle is temple of Apollo, at the top is the theatre.
Click on the photo below to see more photos of Thermopylae...